India Expands Over-the-Horizon UAS Capabilities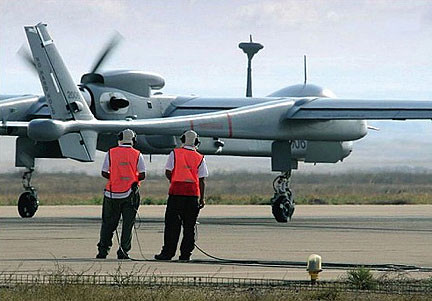 Earlier this week,
reports
indicated that India will spend nearly a billion dollars with Israel Aircraft Industries to upgrade its fleet of Heron UAVs with satellite communications gear. Interestingly, this story coincides with the
launching
of India's GSAT-10 heavy communications satellite. The satellite is positioned in geosynchronous orbit over the central Indian Ocean. Similar to the way the U.S. controls Predator UAVs in Afghanistan from Nevada, the 12 Ku-band transponders may very well be associated with over-the-horizon control of the Heron UAVs. The upgrades will likely enable the the Indian Navy's three squadrons of Herons to reach their maximum operating range of 3,300 km as depicted in our previous
blog post
on the subject. The ability to perform surveillance from the East Coast of Africa to the Strait of Malacca would provide a significant boost in intelligence support to India's blue water navy.