Pivot to the Drones
The U.S. Navy's "Pivot to the Pacific" has been widely and openly discussed as additional shore infrastructure and operating forces shift to Guam, Singapore, and Australia. At the same time, the Navy is quietly making investments on a number of fronts to support its rapidly growing fleet of unmanned systems.
Unmanned air systems (UAS) such as
BAMs
and the X-47B
UCLASS
contender have been tested at Patuxent River Naval Air Station, Maryland for several years. Last month at nearby Webster Field, the Navy broke ground on a $4.3 million 10,000 square foot Unmanned Aircraft Systems Operating Facility for Maryland Army National Guard Tactical UAS. In southern Nevada, Naval Air Station Fallon's proximity to established UAS operating locations Creech Air Force Base and the Nellis Test Ranges make it a contender for one of seven multi-service "centers of excellence" for UAVs to be established across the country. If the Pentagon chooses this location, jobs and infrastructure would likely grow at NAS Fallon.
Unmanned Helicopter Squadron One (HUQ-1) will stand up on October 1 at NAS North Island, California to support the U.S. Navy's increasing rotary wing UAV fleet. HUQ-1 will serve three roles. First, it will be Navy's Fleet Replacement Squadron to train new Air Vehicle Operators and Mission Payload Operators for the
MQ-8B Fire Scout
and upcoming
MQ-8C Fire-X
. Second, the squadron will supply current combatants with UAS detachments, or UDets. The squadrons will also provide unmanned aviation detachments to the 55 Littoral Combat Ships projected for commissioning.
In July 2012, a new Fire Scout operator training facility with improved flight simulators, hands-on aircraft maintenance and classroom instruction was opened at Naval Air Station Jacksonville. The facility is located near Mayport-based frigates which have become the Navy's workhorse VTUAV platform, deploying with Fire Scouts most recently to the Horn of Africa, Libya, and South America for Intelligence, Surveillance, and Reconnaissance (ISR) missions in support of conventional and special operations forces.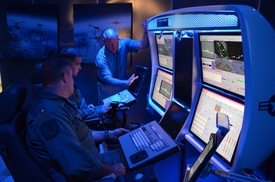 U.S. Navy operators use the Fire Scout simulator at a new training facility established at Naval Air Station Jacksonville, Fla., on July 10. The training center offers improved flight simulators, hands-on aircraft maintenance and classroom instruction. (Northrop Grumman Photo by Stephen Potter)
The build up is not limited to UAS infrastructure. Both the Office of Naval Research and Space and Naval Warfare Systems Command (SPAWAR) Pacific support programs focused on USVs and UUVs.
On the education front, the Naval Postgraduate School established the Center for Autonomous Vehicle Research and even has an autonomous systems track as part of its Mechanical Engineering program.